New Nikon S Series
Hi, readers...So sorry couldn't post any new post coz that time i'm studying in the so called "

Blog School

". There have 2 dedicated teachers--Mr.Logica & Mr. Melvin, who teach me the art of blogging.Now i juz finished the course and graduated from it...Lol

Recently, the new Nikon S series camera did caught my eye, coz it really looks like Lawlen's Sony's Cyber-Shot DSC-T30.


The Nikon S7
Stylish as it is, it is a
7.1MP
, large, bright 3.0-inch LCD monitor with wide 170-degree viewing angle, and most importantly,
vibration reduction (Anti-Shake,
High-Sensitivity)

,
to deliver clear, sharp results.It even have shooting modes like sports mode,
Scene modes (Party/Indoor, Beach/Snow, Sunset, Dusk/Dawn, Night Landscape, Close Up, Museum, Fireworks Show).It has up to ISO1600.This certainly makes it better that Lawlen's camera
in terms of variety in modes.
Really enjoyed my time in
Gurney Plaza
in the last holidays, coz there happens to have a camera expo promoting brands like Nikon, Sony, Canon and so on...i even used the S7 and try it out.It has a type of mode selection that scrolls like an
Ipod Nano
. Attractive usage and displays, it caught my heart, like
love
at first sight when i see it.The effects of the different modes really is very visible, and can really see the differences. The on-off of the camera is fast and it is very useful when u see something and want to take a snap of it before it goes off.(ie: birds,incidents)
Then there's the other type...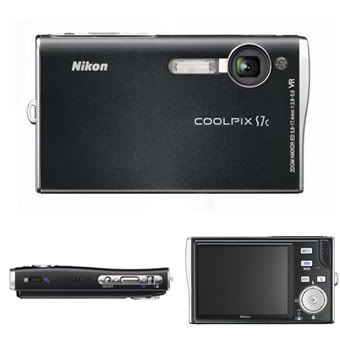 Nikon S7c
The Nikon S7c, which typically is the same as the Nikon S7, but has
Wi-Fi
ability that is useful if you're a busy person who is time conscious. You can juz upload yr pic to any
bluetooth
devices,
to yr PC, even to yr handphone!
The only downside is that it's battery life is up to 200 shots, compared to
Lawlen's
who have up to 400 shots. Haiz.....but overall it is still better that his...hehe
Haiz...still gotta wait till December holidays only could get it, coz the money source is my father who only buys it around that time for family use in holidays. Btw, the S7 cost RM1448 while the S7c cost RM1558. Ha, guess this is my
first
article! Hope it is ok...For more info click
here.
Koolz signing off..................WHEE....!
Labels: Gadgets